Ladies and gentlemen we are gathered here today to talk about two things:
That perfect beautiful creature up there.
And the birth of Adrianna's Book.
Let's start with the book, mainly because I'm having a major Sue moment:
If you're not familiar with Adrianna, she writes the blog A Cozy Kitchen. Go over, get into it. This book sort of runs through the same cozy vein but dives a bit deeper with some living and making ideas, all super doable, even if you're blessed with #wreckingballhands like me.
I was actually lucky enough to help out with the book, helping prep and shoot, wrangle Amelia, naming beer can chickens, learning sooo much, teaching Adrianna a couple things. Even if I hadn't been involved I would still have the same feelings I do.
I. fucking. love. this. book.
I don't just love it because it's beautiful in every aspect, or that there's an awkward photo of me in the back, or that Adrianna's a really good friend of mine, but because it's something that's fresh, new, interesting. There's a conceptual aspect to it that I loooove, it gives you an actual reason to make things besides the fact that it just looks or sounds good. There's things to help get you through shit and ways to sort of slow down, it's all just soo so fresh in it's own way.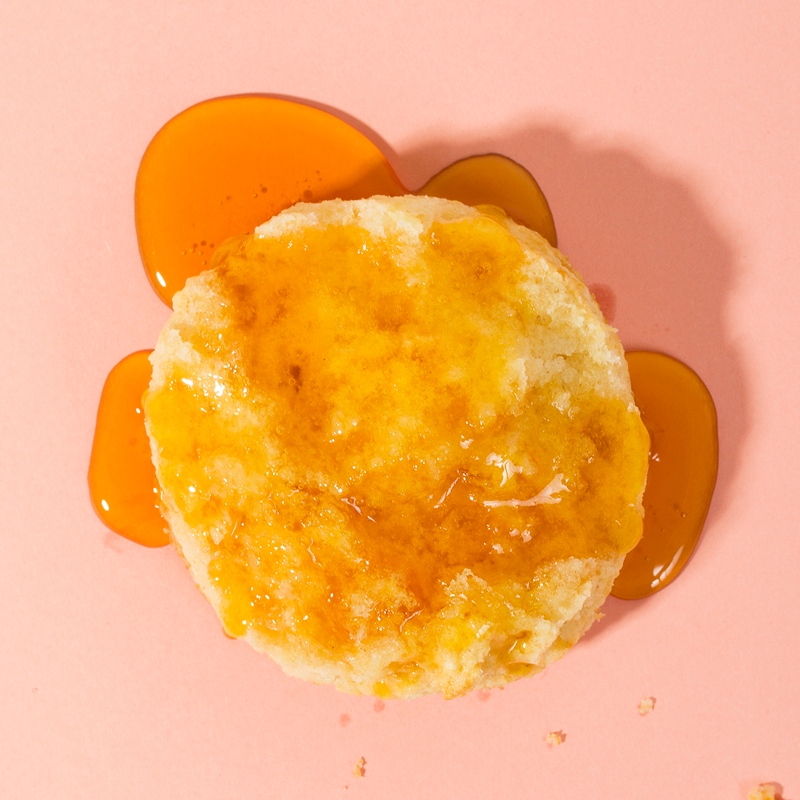 Now that we have the book out of the way we can talk about these biscuits.
THESE BISCUITS.
These biscuits are what you should be looking for in a biscuit. They're super flaky and buttery, just like the name promises, and the bottom sort of turns into this crispy pie crust feeling that you didn't even know you wanted. The trick is to make sure everybody is super cold, your freezer is your best friend with these bebes.
All they really need is a nice drizzle of honey (not exactly full sex mode like that image above), but I don't think anyone would kick you out of bed for opting for jam.
Now go order The Year of Cozy so we can go on and make some biscuits.
Flaky Buttery Biscuits
from the Year of Cozy
Dry:
2 cups all-purpose flour
1 tablespoon baking powder
1/2 teaspoon baking soda
1 scant teaspoon fine grain sea salt (table salt works too!)
1 1/2 stick (6 ounces) unsalted butter
Wet:
1/2 cup buttermilk, cold and shaken
1 large egg, cold
Egg Wash:
1 large egg
1 tablespoon milk (or 1 tablespoon water)
Preheat oven to 400F. Line a baking sheet with parchment paper and set aside.
In a large bowl, mix together the dry ingredients: all-purpose flour, baking powder, baking soda and salt. Using a box grater, grate the butter into the flour mixture. Transfer the bowl to the freezer while you gather the wet ingredients, about 5-7 minutes.
Measure out the buttermilk and add the egg; whisk until combined. In a small bowl, make the egg wash, whisking together the egg and milk. Transfer both to the refrigerator.
Grab the bowl out of the freezer, and gently break up the butter and combine with the flour, using your hands, until it resembles small peas. Add the buttermilk mixture all at once to the flour mixture. Mix until barely combined; and lightly knead the dough. until it forms one solid mass. Sprinkle your kitchen counter with flour and dump the dough onto it. Press the dough into a 3/4-inch thickness. Cut out the biscuits using a 2 1/2-inch biscuit cutter, ending up with about 6 biscuits. You can recombine the scraps and get 2 more biscuits. Transfer them to the baking sheet.
Stick the baking sheet in the freezer for 5 minutes. This will get the bits of butter nice and cold again. After the biscuits are cold, brush the tops of with egg wash and bake in oven or 10 to 15 minutes, until tall and medium golden brown. Serve biscuits warm with honey and jam.